This article can be read in about 3 minutes.
This is an introduction to delicious sake by the Japanese "ComoAki" who loves sake.
Do you know "Umenoyado Yuzu" from Umenojuku Sake Brewery?
I love liquor made from Japanese citrus "Yuzu", but since I met "Umenoyado yuzu" a few years ago, I have stopped buying other products.
The reason is that this liquor has a very strong "yuzu" flavor, and other products are no longer sufficient.
About UMENOYADO BREWERY Co.,Ltd.
The photo above is not Yuzu, but regular sake.
This time I will introduce Yuzu wine, but "Umenoyado" is very delicious with ordinary sake, so I will introduce it at another time.
Basic information of "Umenoyado"
location        Nara prefecture in Japan
Founded       1893
Representative brand        Umenoyado
Impressions of "Umenoyado yuzu syu"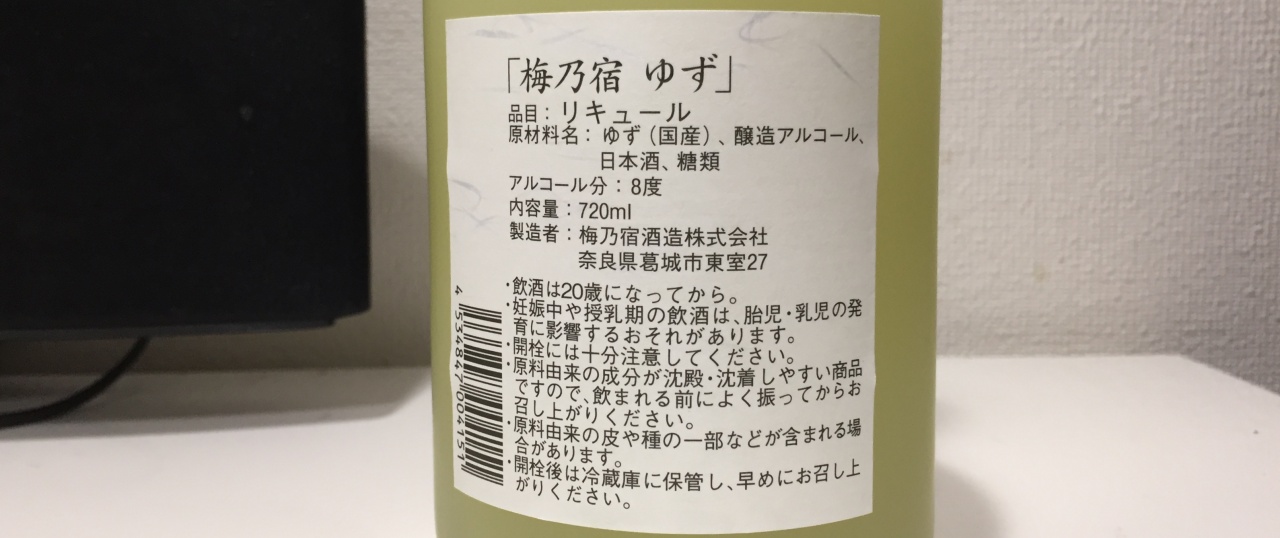 The label of the photo is written in Japanese, so I will introduce the main contents.
Basic information of "Umenoyado yuzu"
Type of liquor        Yuzu liqueur
Alcohol        8%
Preservation method        Keep refrigerated
Impressions I drank
First of all, please see the picture attached below.
It can be seen that the precipitate is attached to the bottle and contains a large amount of yuzu.

When you open the lid, you can feel the unique scent of Yuzu.
It's alcohol, but it feels like you're drinking yuzu juice.
Yuzu has the effect of refreshing the mouth, so it is often used as an after-dinner dessert in Japanese izakaya.
Summary
Thank you for reading to the end.
Once you drink Yuzu Sake from Umenoyado, you will not be satisfied with other Yuzu Sake.
If you haven't tried it yet, please try it.